Appliance Repair in 
Ormond Beach • Palm Coast • Flagler Beach • Daytona Beach
The kitchen is the heart of a home and where most families spend a significant amount of time. A broken kitchen appliance can be stressful and inconvenient. If you have a broken dishwasher, microwave, range, oven, refrigerator, freezer, or other major appliance that needs repair give us a call. Our trained appliance technicians will work hard to get your appliance repaired in a timely and efficient manner. We repair and service major brands such as Frigidaire, Electrolux, Samsung, Kenmore, LG, Whirlpool, GE, Maytag, KitchenAid, Magic Chef, Amana, Hotpoint, Bosch and more..
Appliance Repair Ormond Beach, Flagler Beach, Daytona Beach and Palm Coast.
Dryer not heating or won't tumble? Washer not spinning or draining? We know how important washing machines and dryers are to homeowners and how inconvenient it can be making those long trips to the laundromat along with the additional expense. Give us a call and we'll have your appliance up and running in no time. We offer emergency appliance repair service and can usually accommodate same day repairs. We service and repair major brands such as Frigidaire, Electrolux, Samsung, Kenmore, LG, Whirlpool, GE, Maytag, KitchenAid, Magic Chef, Amana Hotpoint and more...
One of the top ten reasons for house fires starts with your dryer. Keeping your dryer and vent clear of lint is vitally important. Lint is a flammable material and needs to be cleaned out of both your machine and Dryer Duct by a professional on annual basis. A  clean dryer vent also prevents long dry times which will save you money on costly electric bills and help prolong the life of your equipment. A clogged dryer vent can cause your dryer to overheat causing costly repairs that could have be avoided.
I have never dealt with a repairman from any company that was so helpful and so honest..I will call this company from now on for any repairs I need ...the great thing is that they are local - Pamela B. Ormond Beach, Florida 12/9/2016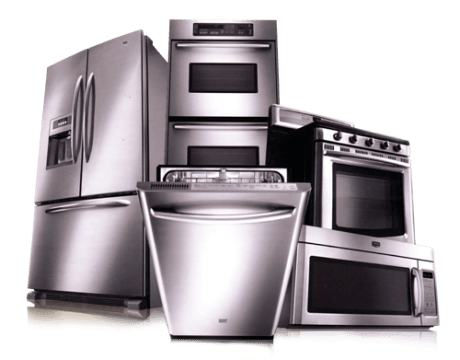 [coupon couponid="750" name="$20.00 Off Standard Repair"]
Appliance Brands We Repair
We repair most major residential appliance brands for refrigerators, ice makers, dishwashers, ovens, ranges, cooktops, washers, dryers and more. When your home appliance stops working, give us a call for service in the Ormond Beach, Daytona Beach and Palm Coast area!
Admiral, Electrolux, Frigidaire, Hotpoint, General Electric-GE, Jenn-Air, Kenmore, Amana, Bosch, KitchenAid, Magic Chef, LG Electronics, Maytag, Samsung, Whirlpool, and More.....
Don't see your brand? Give us a call!






Have you checked?
Remember to do a diagnostics check of your appliance for minor problems, such as an appliance being inadvertently unplugged, circuit breaker tripped, clogged or dirty dryer vent or even the water supply accidentally being turned off to the washer or ice maker. This could save you from lost time and frustration. For those technically savvy individuals, we now offer the largest selection of OEM Parts Nationwide.
Need Appliance Parts? 

For those that have the technical savvy to repair their own appliances, we now offer the largest selection of parts Nationwide. 

Appliance Parts Hotline ⇒  (877) 779-5418
We've Got You Covered!
Our highly trained technicians can take care of your appliance repair needs, from replacing a user interface, microcomputer, inverter, BLDC motor or replacing a water valve or solenoid. What ever the issue may be "We've got you covered"
Why Choose Us?
At Home Appliance Repair & Service, we believe that repairing the appliances in your home is only the very beginning of the job. When you work with our team, you can trust that you will be working with expert technicians who take pride in the cleanliness of their work; that pride is reflected in how we treat you, as well as how we treat your home.
Ormond Beach • Palm Coast • Daytona Beach 
• Flagler Beach
Appliance repair for Samsung · LG · GE · Bosch · Whirlpool · Kenmore · Frigidaire · Hotpoint · Electrolux · Kitchenaide and many more manufacturers.  Home appliance repair specializes in washer repair or washing machine repair, dryer repair, dishwasher repair, microwave repair, oven repair, refrigerator repair, freezer repair and more.